1. We are a leading company.
We have a long, successful history, a portfolio of respected products and presence throughout the United States.
2. We celebrate success.
Every month we have a rewards and recognition meeting where applause and "attaboys" are the order of the day.
3. We value our employees.
We believe in working to live, not living to work. Overtime is an infrequent 4-letter word. Family matters.
4. We believe in community.
We have local roots that run deep. We have been in business since 1977.
5. We are customer-centric.
If you find satisfaction in helping customers, you will be in good company. Our success depends on the success of the companies we do business with. We never stop looking for solutions that help our customers shine.
6. We employ smart, experienced people.
Work here, and you will work among some of the industry's best. Our employees have been here 10 years or more.
7. You can build a career here.
Develop new skills, take on new roles, find new challenges. We are committed to employees' professional development.
8. We do work that matters.
As a leading company, we make a difference in the marketplace and in the success of our customers. Your work will have an impact.
9. Your pay and benefits will be competitive.
We reward excellence. And we offer pay and benefits that are competitive compared to our industry and others.
10. Ready to apply?
Visit our Career Opportunities page.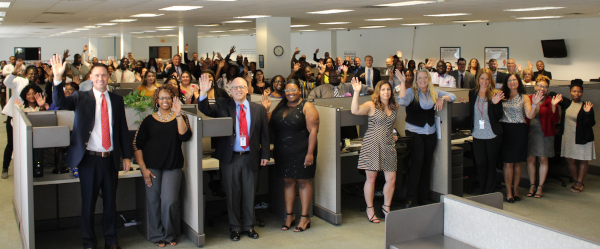 ONLINE's proprietary Exchange Advantage prevents customers from moving between service areas without paying you and your industry peers. This added layer of protection helps you prevent bad debt at the point of application by accurately assessing a deposit or making the correct leasing decision. And allows ONLINE to recover your bad debt on the back end by capturing and updating debtor contact information in real time.
The Exchange is designed to capture, track, and report industry specific payment history in real time from our members; this network was designed to eliminate your bad debt.