A career with ONLINE Information Services, Inc. starts here.
ONLINE Information Services, Inc. is committed to recruiting, promoting and supporting a diverse workforce through equal opportunity. Decisions regarding hiring, training, compensation, promotion and termination are made without discrimination on the basis of race, color, sex, sexual orientation, age, religion, national origin, disability, or other categories as provided by law.
ONLINE is the nation's leading developer of credit risk assessment and debt recovery solutions. Since 1977, our collection services and applicant screening tools have helped clients across the nation increase their profitability. ONLINE is committed to our clients' success and focused on one simple goal: to eliminate their bad debt.
"ONLINE's business casual working environment allows everyone to feel comfortable while working in his or her specialty field."

"The advertisement for my position asked if an applicant is interested in an environment where one is appreciated. Coming from a job where that is not the case, I have found that it is absolutely true. The company president regularly thanks employees for what they do…..and means it!!"
"ONLINE's small company sizes is actually great because you can learn something new from everyone, everyday."

"ONLINE is a great company to build your career experience regardless of your skill sets: Entry, Professional, Executive/Manager, etc."
"ONLINE has an awesome group of employee's with different backgrounds and we all feel like this is our 2nd family."

"At ONLINE you can stop by and even sit down to speak with the President of the company. How cool is that!!! I am enjoying my time at OIS."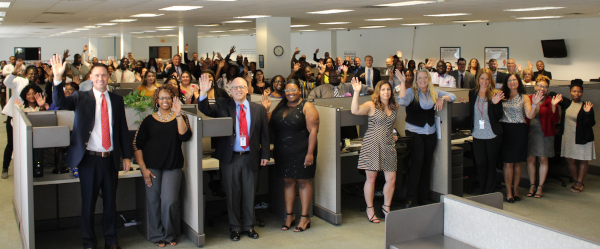 ONLINE's proprietary Exchange Advantage prevents customers from moving between service areas without paying you and your industry peers. This added layer of protection helps you prevent bad debt at the point of application by accurately assessing a deposit or making the correct leasing decision. And allows ONLINE to recover your bad debt on the back end by capturing and updating debtor contact information in real time.
The Exchange is designed to capture, track, and report industry specific payment history in real time from our members; this network was designed to eliminate your bad debt.