Your paycheck is only the beginning
We pay competitive wages, but there's more to our compensation than that, including benefits, work/life support, performance recognition and career development opportunities.
Compensation
We compensate employees in a way that is competitive when measured throughout the industry. We pay for performance—both individual performance and contributions toward the achievement of our company's success.
Benefits
We offer a comprehensive benefits package that addresses our employees' health, income security and capital accumulation needs. Benefits include:
Medical and dental benefits
Paid Time Off and paid holidays (including your birthday as a holiday)
401(k) retirement plan with corporate matching
Company provided Life insurance benefits
FSA (Flexible Spending Account)
Disability benefits provided through the purchase of AFLAC Products
In-house training
And more
Work Life support
We help employees balance the demands of work and home life; many programs address the physical and emotional well- being of our employees and their families, including:
FMLA leave
Military leave
Bereavement leave
Jury Duty coverage for up to 40 hours
Wellness programs through BCBS of NC
24-hour personal support Employee Assistance Program for financial, legal and mental health counseling
Online training for personal and professional development
And more
Please note: Benefit programs and eligibility criteria are evaluated annually. We reserve the right to discontinue or change these benefits at any time.
Ready to apply? Visit our Career Opportunities page.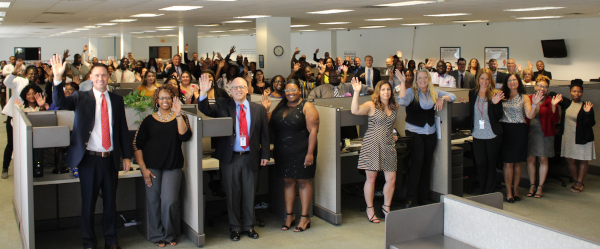 ONLINE's proprietary Exchange Advantage prevents customers from moving between service areas without paying you and your industry peers. This added layer of protection helps you prevent bad debt at the point of application by accurately assessing a deposit or making the correct leasing decision. And allows ONLINE to recover your bad debt on the back end by capturing and updating debtor contact information in real time.
The Exchange is designed to capture, track, and report industry specific payment history in real time from our members; this network was designed to eliminate your bad debt.